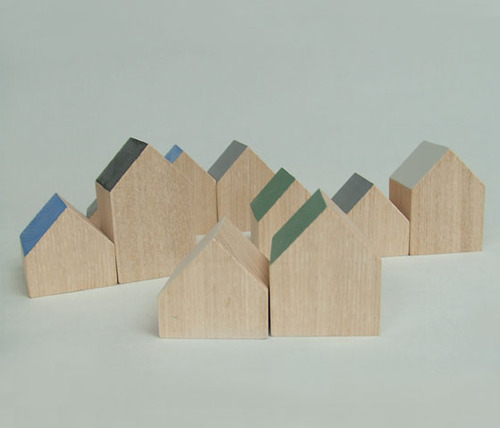 Chigo, Gochi, get it? It's a Japanese thing, reversing the syllables. It's also the answer to the question left over from Bubble NY last spring, about which of designer/guru Shinichiro Nakahara's constellation of shops, publishing imprints, and design brands would be used to market the toys they showed: none.
House Blocks are made in cottage-scale workshops from blocks of tamo wood, a native Japanese species in the mulberry family. They're painted on just one side. Each 10-block set comes in a decorative burlap sack. The blocks are an assortment of five colors and three sizes, just the right mix of house blocks to make a sweet little housing block.
Chigo's online store only ships domestically in Japan, but presumably, Gochi will be turning up at US retailers, too. Stay tuned.
gochi house block, 4,725 yen/bag [chigo.co.jp]
Previously: Chigo in da dollhouse!!