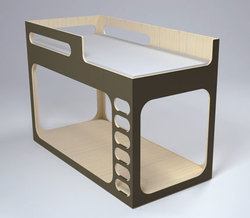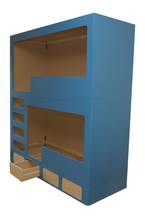 First off, let me say that I think that the principles of designing for kids--no sharp corners, integrated safety rails--and the nature of the low-volume, cost-effective manufacturing process, especially CNC routing of sheets of material, are not insignificant.
But damned if Thomas Maitz's new Amber in the Sky bunkbed doesn't look an awful lot like Laphoeff's 028 bed. Maitz surfaces his wood bed in felt, though, while 028's in MDF. Another difference: 028 exists, while AITS is still just a rendering AFAIK.
Even though they're similar, somehow Maitz's design reminds me of an incredible Andrea Zittel installation from a few years back, A - Z Cellular Compartments, but Laphoeff's design doesn't. Go figure.
Also wait, MDF? Can't that be any Pantone color under the sun? Why pink or blue?? Work with me, sheeple!
Thomas Maitz' Amber in the Sky and other new designs [kidsmodern.com]
Laphoeff 028 bedden, EUR780 [laphoeff.nl via babygadget