<!form method="get" action="http://dt-go.com/cgi-bin/mt/mt-search.cgi"> <!input type="hidden" name="IncludeBlogs" value="3" /> <!input type="hidden" name="Template" value="daddy" /> <!input id="search" name="search" style="width: 270px; height: 15px;" /> <!input type="image" src="http://daddytypes.com/search.gif" height="18" width="159" border="0"> <!/form><!br />
'Ello, Ven. Wot About London [Kid-Free?] Design Week?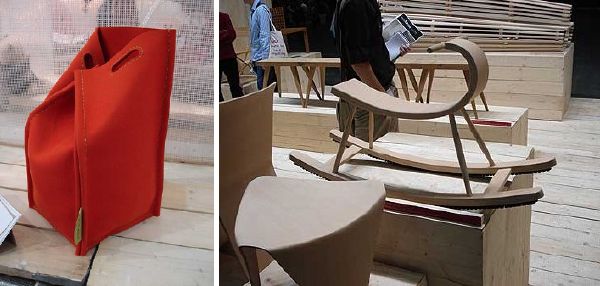 Is it just me, or did London Design Week and the associated events like 100% Design generate almost no kid-related design discoveries?
True, a couple of weeks ago, MoCoLoco had a seating roundup with photos of Andrew Millar's Teddy Bag chair. [fueledbycoffee put a pic on flickr of the Teddy Bag open and full of toys.]
And they also included a shot of Danish designer Kasper Salto's Brushhorse, but that's not new [kidsmodern, for one, posted about it months ago. It's called Brushhorse because the rockers are made with scrub brush material. Get it? Me either.]
There are approximately 150,000 hipmodcool babygear blogs now, and this is all we can come up with? Did the Roller Buggy set the bar so high last year, that it kept people away? Or is this a sign the cool baby bubble is bursting? Quick! To the Babies R Us!
London Design Week 2007 - 100% Design - Seating [mocoloco]
Last year: Nice hood ornament, Roller Buggy
posted October 4, 2007 2:28 PM | add to del.icio.us | digg this
<!something is wrong with my adserver, so until I fix it, no ads>