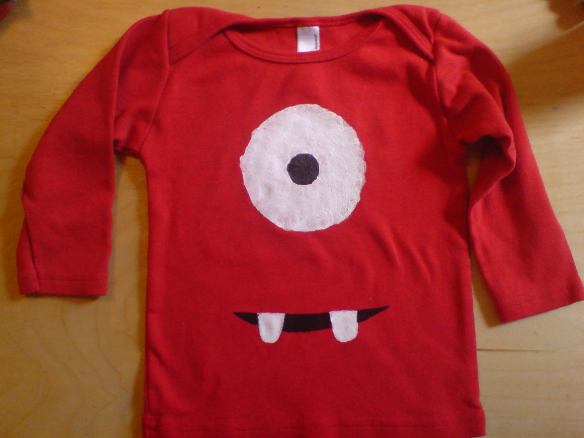 So what better prize for the unofficial YGG! contest than an unofficial YGG! T-shirt?
Basically, it's made with a stencil cut from the iron-on transfer images on the Nick Jr. site.
If you make one yourself--possibly because you don't win this one, or because you figure you could do it a heckuvalot cleaner, sheesh--I suggest stealing transparencies from the office; those things are like $30/box, and you need 1, maybe 2, max. Also, pay attention to the opaque/transparent paint thing on the darker fabrics. It matters more than your textile-paint-virgin mind can know.
If your kid happens not to be anywhere near 12-18 mo-size, the kid and I will be making another one. [Which'll at least bring the per-unit cost of these bad boys down from the current $67 ($15 shirt, $15 paint, $7 brush, $30 mylar) to a more reasonable $38.]
There's still time to enter the YGG drawing--or to practice typing, "Gee, my kid's too big to wear your amateur crafty shirt, thanks though," in case you "win."
DT Fill in the Blank Contest: "My name is ____! I like to ____!" ends Thurs, Oct. 4