BoingBoing linked to video of an appearance by Run DMC on a mid-1980's episode of Reading Rainbow. Well, I'll see your book-rapping Run DMC, Xeni, and raise you one circa 1992 hip-hopping Levar Burton, dressed in an apparent homage to Rerun from What's Happening: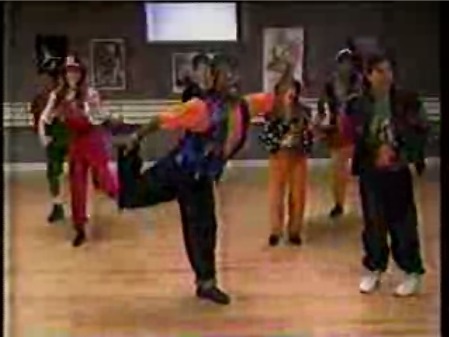 On our PBS stations, at least, Reading Rainbow comes on after Mister Rogers. Which makes it the TV we sometimes need when kid wants to keep her sweet, make-believe high going. It's like the methadone of children's television.
The last time we watched it, it was a 1989 episode called "Barn Dance!", where Levar & Friends went to visit a clogging group in Kentucky. A whitey-whiter bunch could not be found, though, and the dance-along closing credits look less like rainbow sherbet and more like chocolate chip. It's on DVD, but not YouTube. yet.