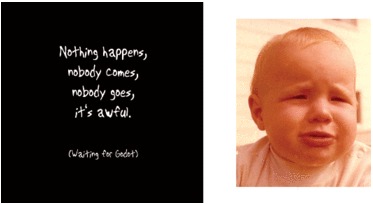 Haha, of course, who else but Samuel Beckett could make sense of the first four months of parenthood? Here's mom/blogger Stephany Aulenback talking about the boardbook she conceived [heh], Beckett for Babies:
Beckett's work is bleak yet comic, much like parenting; on the whole it attempts to sort out such knotty problems as "the absurdity of existence" and "the mystery of the self." These are, of course, precisely the problems that infants and toddlers (not to mention their parents) struggle with on a daily basis.
The best [sic] line, "They give birth astride the grave," turns out to be rather difficult to illustrate, at least on the public-facing blog. Enjoy it while it lasts; I'm sure it won't be a long wait for Beckett's executors to come along and smother this boardbook baby in its crib.
Beckett for Babies by Stephany Aulenback [crookedhouse via maudnewton]