A team of pediatrics researchers from Washington University in St Louis reviewed 20 years of CPSC data and identified at lesat 27 infant deaths caused by crib bumpers. Their findings and recommendations--GET RID OF CRIB BUMPERS, DUH, THEY'RE POINTLESS AND DANGEROUS--are published in the [peer-reviewed, actually scientific] Journal of Pediatrics. The specific causes of death were suffocation up against the bumpers; kids getting their heads stuck in the gap between the bumper and the mattress, and kids getting strangled by the bumper ties.
You'll know if there's a real safety risk when the crib bumper manufacturers at the JPMA to denounce the alarmist pediatricians for ignoring the many developmental benefits of exposing a child to adorable fabric patterns. Then they'll renew their undying support of crib bumpers. [Hope they don't get into as much trouble as last time.]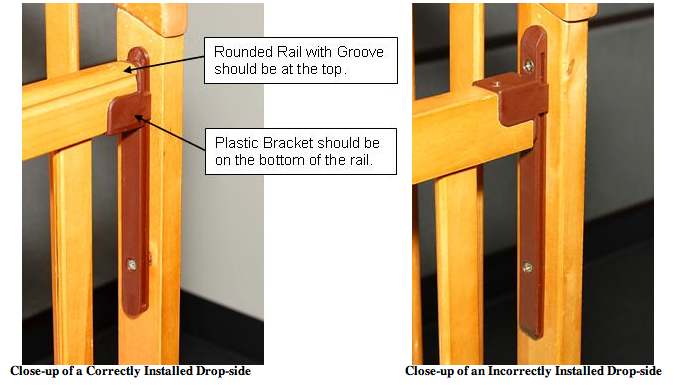 Meanwhile, one million Graco and Simplicity brand cribs sold between 1997 and May 2007 have been recalled for suffocation dangers. At least three babies have died when their heads got wedged in a gap between the side rail and the mattress. Turns out when the side rail was put on upside down, it could create a gap. In May, both Simplicity and Graco began selling cribs with the top and the bottom clearly marked. Thanks for that. Now go check your crib rails are installed properly.
Crib bumpers can do more harm than good: U.S. study [reuters via consumerist]
Wash U-StL press release: Hazards of using crib bumper pads outweigh their benefits [wustl.edu]
Baby cribs recalled after three deaths [ap/yahoo via dt reader arlopop]
CPSC Recall: About 1 Million Simplicity Cribs Recalled Due To Failures Resulting in Infant Deaths [cpsc.gov]