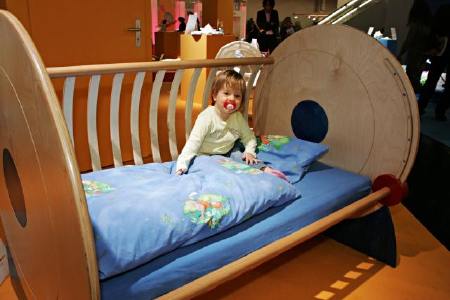 The third question you'd have upon seeing Kotura Design's Lunetta convertible crib/toddler bed at K+J would be, "But does the side raise up?" [#2 is "Is that kid in the union? Because the Koelnmesse is a union venue." #1 is, of course, "Wha wha WHA???"]
I can't help you with Nos. 1 or 2, but a quick look at Kotura's website shows the answer to #3 is a resounding "YES."
Other questions:
"Have the Koturans ever studied the tanker truck beds of Lo-Tek?"
"What about the giant paper tube bunk beds of H.U.D.D.L.E.?"
"Does it ship flat?"
"Can I get that 19% VAT refunded?"
and the biggie: "Do they have drivethru banking in Germany?"
Lunetta Kinderbett by Kotura Designs, EUR840, standard 140x70cm mattress included [kotura.de]