Holy smoked salmon, I thought I'd seen everything. Now I've seen everything PLUS some joker on eBay selling a $119 Ikea Hermelin crib on eBay for $249, plus $62 flatrate shipping.
That's a 260% markup on a crib that just came out a few weeks ago. Which would be a huge ripoff even if the crib wasn't painted Ikea Blue and wasn't named after Sweden's most famous drunken, vagabond translator of Persian literature.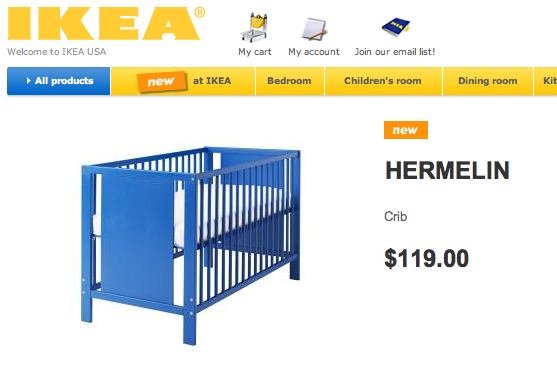 If the pitch was, "Hey, you want an Ikea crib but you don't live near an Ikea?" I'd be fine with it. But the seller--who goes by the handle of bidorbuyitnow--is not even letting on that it's Ikea. It's being sold as "Designer Blue Crib Solid Wood Modern Infant Baby Luxury" and "Brand new high-quality Designer crib in a beautiful blue shade."
Even if he'd just put "price includes $192 Chump Tax" on there somewhere, I'd be fine with it. Because that is what you are paying. Other than that, great-looking crib.
Designer Blue [sic] Crib Solid Wood Modern Infant Baby Luxury, $249+62 s/h from bidorbuyitnow [ebay]
NEW - Hermelin Crib, blue, $119 [ikea.com]
Just 6 weeks ago: Hermelin: Sweet, Ikea-colored crib--from Ikea
[update: there's a choice email exchange between a potential bidder and the seller, followed by a comment by the seller. So there's no need to notify him of this post or that some people know where he got his crib; he most definitely already knows. -ed.]