I've gotta get the kid out the door for pre-preschool [it started yesterday!], so I haven't even had a chance to read this story on the front page of the Washington Post yet, much less think of an outraged, pretend-surprised response.
Suffice it to say, Daddy Types believes the Breast-Feeding Movement could benefit greatly from a high-profile spokesmodel. Hmm. Maybe "high" isn't quite the word I'm looking for...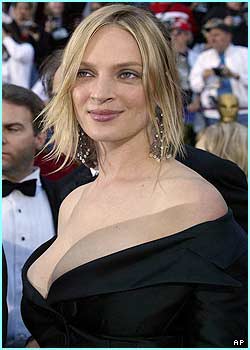 HHS Toned Down Breast-Feeding Ads: Formula Industry Urged Softer Campaign [washpost]
UPDATE: OK, I'm back, did I miss anything? [yeah, everything before Kaz's obligatory Uma comment, actually].
So the risk-focused ad campaign got toned down and tossed. Actually, when the NYT wrote about this same campaign last summer, it kind of pissed me off as inflammatory lactifascism, and that was with just the bullriding machine ad, especially when it comes from a government that does less than nothing to make it easier for women to breastfeed.
Without addressing the underlying reasons women don't or don't keep bf, an ad campaign is ridiculous window-dressing, and barely more than a distraction. The amount of money spent is so miniscule, it's not even mentioned, only the $30 million of donated ad time.
What I actually meant about pretend-surprise is not just the way the formula companies lobbied to change the campaign--no one lobbies like the pharmaceuticals:
Gina Ciagne, the office's public affairs specialist for the campaign, said, "We were ready to go with our risk-based campaign -- making breast-feeding a real public health issue -- when the formula companies learned about it and came in to complain. Before long, we were told we had to water things down, get rid of the hard-hitting ads and generally make sure we didn't somehow offend."

Ciagne and others involved in the campaign said the pushback coincided with a high-level lobbying campaign by formula makers, which are mostly divisions of large pharmaceutical companies that are among the most generous campaign donors in the nation.

The campaign the industry mounted was a Washington classic -- a full-court press to reach top political appointees at HHS, using influential former government officials, now working for the industry, to act as go-betweens. [emphasis added]
It's the degree to which those HHS politicos accommodated industry and silenced the agency's own scientifically validated claims and priorities. The insulin needle is a canard; the real sin here was squelching education about risk-related research findings.
But even beyond that is an incident which barely got mentioned in the post: HHS appointees suppressed other pro-breastfeeding studies the agency had commissioned:
But other current and former HHS officials say the muting of the ads was not the only episode in which HHS missed a chance to try to raise the breast-feeding rate. In April, according to officials and documents, the department chose not to promote a comprehensive analysis by its own Agency for Healthcare Research and Quality (AHRQ) of multiple studies on breast-feeding, which generally found it was associated with fewer ear and gastrointestinal infections, as well as lower rates of diabetes, leukemia, obesity, asthma and sudden infant death syndrome.

The report did not assert a direct cause and effect, because doing so would require studies in which some women are told not to breast-feed their infants -- a request considered unethical, given the obvious health benefits of the practice.

A top HHS official said that at the time, Suzanne Haynes, an epidemiologist and senior science adviser for the department's Office on Women's Health, argued strongly in favor of promoting the new conclusions in the media and among medical professionals. But her office, which commissioned the report, was specifically instructed by political appointees not to disseminate a news release.
Another appointee, a former pharma lobbyist, also canceled a $600,000 bf community outreach program. Not many details on that, either, but I would say that there's ample evidence that this administration ignores or manipulates science and acts in the benefit of lobbyists and corporations over individual citizens. They would, in turn, no doubt argue that the data is murky and does not show a causal connection.