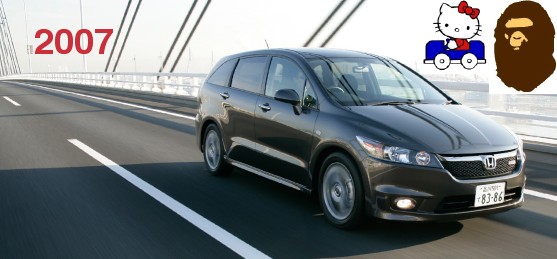 Well I'll be darned. The small, 7-seat people mover, the Honda Stream, was one of the many great-looking, extremely efficient, and all-around awesome, Japan-only family cars that taunted me with their unavailability. Meanwhile, the US had the Mazda5, the, uh, Mazda5 in red... That's about it.
For now. Winding Road is reporting that Honda will bring the Stream to the US in 2009. The Stream is based on a Civic and CR-V platform and shares some stylistic cues with the new CR-V [but don't hold that against it].
The US version will apparently only have two rows of seats, not three. Also, engine and AWD options have not been announced. If I'm not too busy driving my 2009 Nissan Cube around the block, I will definitely keep an eye on this one.
Japan Report: Honda Stream Headed To U.S. In 2009 [windingroad.com via jj daddy-o]
Can't wait? Here's the Honda Stream Japanese site [honda.co.jp]
Previously: Cars You Can't Have, vol. XXV: Honda Wagons