NOTE: This has nothing to do with goth freakshow circuses and their vacuum-gluing dwarves.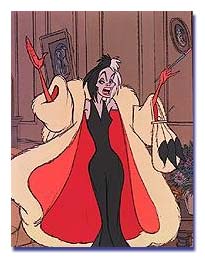 Bats Day In The Fun Park is an annual weekend-long gathering of Goth culture enthusiasts which culminates in a big, black, fishnetty trip to Disneyland. It's the kind of event that, unless you're into some flavor of goth or another, takes you by surprise when endearingly incongruous photos turn up on flickr of ardent alt-culture types frolicking in Cruella de Vil's corporate entertainment garden.
And though it seems most of the Anne Rice fans [update: have been chased off by her newly zealous conversion to evangelical Christianity, I'm told, and so it probably wouldn't be accurate to automatically assume goth=Anne Rice fan unless it's goth Bible camp.] haven't yet settled down yet, there are a few dads and kids in the mix.
The photo above of an appropriately morose-looking toddler in a Cure t-shirt is from orejudo's stream. The dad and matching baby in black, zippers, and mesh sleeve things is from ladypuppy1939.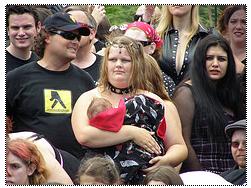 When I first saw this mom and her baby, for example, I assumed the only black shirt dad had was from his PacBell company picnic. But that was because dad was fishing around in the Rock Star Baby stroller, looking for the rhinestone-studded skull pacifier.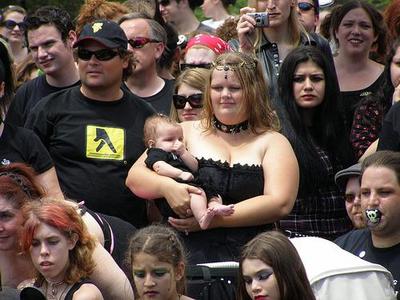 [images via ladypuppy's flickr stream and the batsday tag on flickr via boingboing]
Bats Day In The Fun Park [batsday.net]