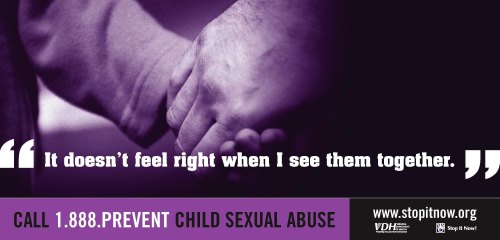 I swear, if it weren't for the boiled peanuts and all the Chick-Fil-A's...
The Wall Street Journal reports on a Virginia campaign promoting its sexual abuse hotline "designed to encourage people to trust their instincts about possible abuse," which includes billboards showing a man holding a child's hand.
"TV shows, including the Dateline NBC series 'To Catch a Predator,' hype stories about male abusers," the report says, and John Walsh, the vigilante host of Fox's "America's Most Wanted," who advocates never hiring a male babysitter, is quoted saying, "It's not a witch hunt, it's all about minimizing risks. What dog is more likely to bite and hurt you? A Doberman, not a poodle. Who's more likely to molest a child? A male."
He's right about one thing: it's not a witch hunt, it's dangerously and wilfully inaccurate paranoia. From The Dog Channel:
Dobermans have been given an unfair rap, according to breeders, owners and others who love the breed.

"A lot of the bad dog image that Dobermans have is what the public has seen on TV," says breeder Brandi Canfield.
And here's the first point of the American Veterinary Medicine Association's
dog bite prevention campaign [pdf]
:
Which dogs bite?
An often-asked question is what breed or breeds of dog are most "dangerous"? This inquiry can be prompted by a serious attack by a specific dog, or it may be the result of media-driven portrayals of a specific breed as "dangerous." Although this is a common concern, singling out 1 or 2 breeds for control can result in a false sense of accomplishment. Doing so ignores the true scope of the problem and will not result in a responsible approach to protecting a community's citizens.
The AVMA also points to research that shows the majority of dog bites, up to 76% in some studies, involve unneutered male dogs, a large portion of which are chained.
So while Virginians are being encouraged to follow their TV-addled instincts and decide, essentially, "poodle or doberman," they're missing the actual causes, and risk factors associated with the problem. Nice.
The Virginia billboards contain the slogan, "It doesn't feel right when I see them together." Which I believe was also the slogan for the state's Racial Integrity Act of 1924, the anti-miscegenation law finally overturned in 1967. Hopefully, for the abused children of Virginia's sake, it won't take the gullible, backwards, TV-addicted asshats running the place 53 years to get a freakin' clue.

Are We Teaching Our Kids To Be Fearful of Men? [wsj via dt reader and new dad peter]
Stop It Now! [actual] warning signs about sexual abuse [stopitnow.org]
previously and utterly unrelated until now: Dog Disguises for Kid-Threatening Breeds