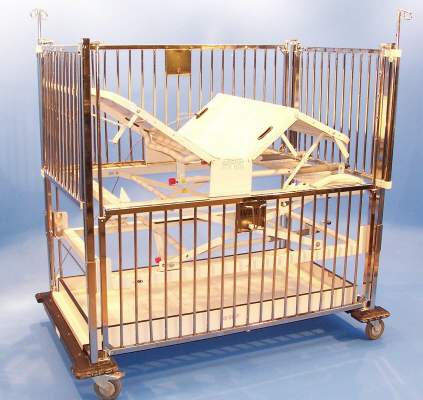 The Doernbecher Crib from Hard Manufacturing provides a dramatic improvement in the pediatric ICU experience for everyone involved: doctors and nurses, little patients, and even their families. All four sides raise and drop with ergonomically designed ease and security, for unencumbered access. The built-in scale means you don't have to move a kid just to weigh her. And the mattress platform adjusts in so many ways, even the kid's Craftmatic-ensconced great-grandparents will be jealous. The integrated IV stands will keep mobiles out of reach far beyond their typical expiration date.
And if you get the chrome finish, it looks jaw-droppingly awesome, a pure embodiment of the original, industrial-repurposing ethos of loft [as opposed to "loft"] living. And at just $9,945 retail, it's--OK, who're you kidding? Not even hospitals would pay that much. [Calling the smaller, NICU-sized version the iCrib does not make $8,815 seem any cheaper.]
But if it were just $559.99, plus a $35 palletization charge, plus shipping? Now we're talking. By coincidence, there's one available on eBay just this second for just that amount.
Why such a discount? The much-praised scale doesn't work. But if you buy now, you'll get a small box of tangled, scale-related electronic circuitry, ABSOLUTELY FREE!
Even without the scale, this is not a crib for loft poseurs. With all that chrome and that grand piano-style wheelie base, the crib weighs in at 369 pounds. It's at least 36 inches wide, so unless your place has freight elevators and sliding steel firedoors in your place, all you'll get on delivery day is one crib in the driveway and two mighty amused Teamsters.
HARD WS-36 CHROME DAY CARE BABY BED HOSPITAL SCALE/CRIB, BUY IT NOW, $559.99 [ebay via mark]
Related: The Doernbecher Critical Care Crib: Doctor and Manufacturer Collaborate to Increase Benefits of Critical Care Crib [mdtmag.com]
Previously: That stainless steel & plexiglass bassinet from the hospital
stainless steel & plexiglass cribs; also lab-quality stainless steel cribs