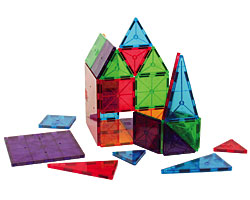 One of the kid's favorite toys is Magna-Tiles. She plays with them every day. They're awesome. They spread like an irresistible marketing virus from playdate to playdate, from cousin to cousin. Not counting the dozen or so folks each month who end up ordering Magna-Tiles through DT, I can think of ten people easy who found out about and bought the magnetic building tiles from us.
They seem really well made and not easily breakable. They haven't been recalled. We only play with them in supervised settings. The kid doesn't put things in her mouth anyway. But as a guy who used to feed his little brother and sister pennies with the line, "Take your Geritol!" the possibility of a kid ingesting magnets is kind of freaking me out.
Consumer Reports reiterated its recommendation yesterday to keep all magnetic toys out of the house if there are young children around. Someone at Consumerist linked to the to the Chicago Tribune's outraged expose' of the CPSC's slow, impotent, muddled, defensive actions in the Magnetix recall saga.
Now I'm wondering what the term is for this kind of escalating parental anxiety coupled with inaction, since it's not like we're throwing out all the Magna-Tiles this instant or anything.
Latest toy recall raises additional concern over magnets [consumerreports.org]
TRIBUNE INVESTIGATION: HIDDEN HAZARDS
Part 1: Toy magnets kill young boy,
Part 2: Inside the botched recall of a dangerous toy [chicagotribune]
Related: conscientious retailer and non-recalled magnetic toy mfr talk about Magnetix [spillingthebeans.net]
Previously: Boy, does the kid love her Magna-Tiles