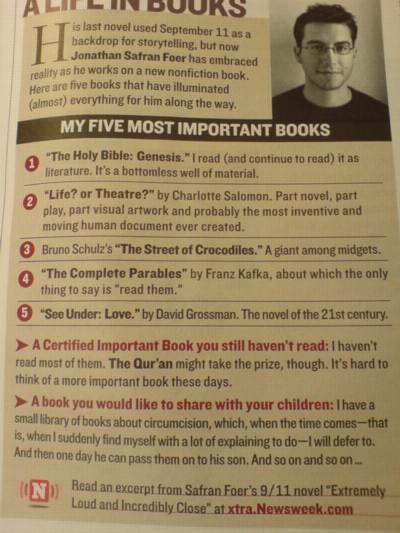 So we're waiting at the OB's office for the 20-week ultrasound visit yesterday, when I spy this Newsweek blurbicle with Brooklyn novelist Jonathan Safran Foer, whose "My Five Most Important Book" list was topped with,
"The Holy Bible: Genesis." I read (and continue to read) it as literature. It's a bottomless well of material."
And I'm like, "Hmm. proudly non-believing Jew, alright."
And then on down a few lines, I read Foer's answer to the magazine's query for "a book you would like to share with your children." And?
I have a small library of books about circumcision, which, when the time comes--that is, when I suddenly find myself with a lot of explaining to do--I will defer to. And then one day he can pass them on to his son. And so on and so on...
Huh. If it weren't for the literature comment, I would've said the definitive circumcision library included the Torah, and not much else. So what are the 2nd through 5th Most Important Circumcision Books out there?
Not that I need to know; looks like kid2.0's another girl.