Without going too deeply into my own personal history with the subject, let's just say that I, like many, many parents, can appreciate a good do-rag.
Yet when it comes to a classic bandanna you could easily tie on a baby's head, the do-rag industry always seemed to come up empty. Regular-sized bandannas did not work. Maybe just a tiny, pre-cut, triangular simulacrum, with apron-like straps would be fine? If the kid's got hair, maybe even put the do-rag on top of the head, not on top of the forehead? Keep the hair out of the face?
I'm just saying, do we really have to go to Holland to track down a decent do-rag? Because this one does look like it's getting close.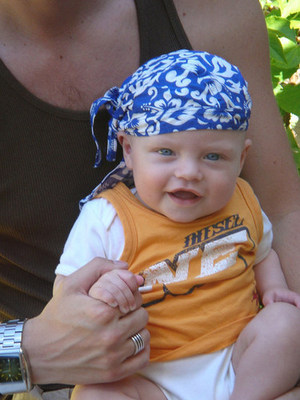 Bas, short for Badass, from Hyves, the Dutch MySpace
[basaarse.hyves.nl via
sandy
]