You know how secret shopper Paco Underhill says women will cut through the men's department, but if the women's department's right up front, men will not need socks after all; we'll just catch up with you at the food court?
I wonder what advice Paco would give the diaper bagging gurus at Petunia Pickle Bottom who, after doing such a great job becoming "the brand all moms want," decided they wanted a little piece of the dad diaper bag, too?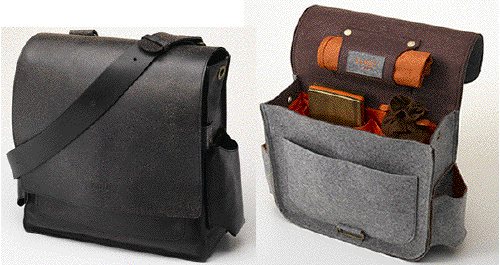 Because I don't think the Kate/Jack Spade route is going to work. Frank Pickle Bottom? Gus Pickle Ass?
They could try to play up the dad angle a bit, mention that the name came from childhood, "(the head designer's father coined the phrase when she was a little one)" and launch a similarly sentimental boy's name as a brand: Knucklehead, Ya Little Monster, Getchyer Molasses Ass Over Here NOW!--I admit, I'm drawing a blank here. Any ideas?
Or they could just go balls out [good start!] and put the macho-est, SUV-est sounding name they could think of--The Scout Collection--and figure that 99% of these bags are going to be bought by women for men, and so guys will never get within a hundred Q-Factor points of even hearing the name "Petunia Pickle Bottom."
It's not like guys are gonna get together and ask, "Is that the Journey Pack or the Rubicon Rucksack?" "Dude, Journey Pack = hairy back. I.e., debossed, heathered, industrial felt. Besides, does this look like distressed buffalo hide to you?"
Net net: guys who want to steer their bagbuyers toward the Scout Collection can relax; just leave the browser window open, or head to Nordstrom's "for a shoe shine." They've got your back.
From baby to board room, Dads will tote in style with new Scout Collection from Petunia Pickle Bottom. [press release, now deleted, but thanks to PPP's PR for the heads up]
First Look: Petunia Pickle Bottom Diaper Bags for Dads [babble, too, thanks jason]