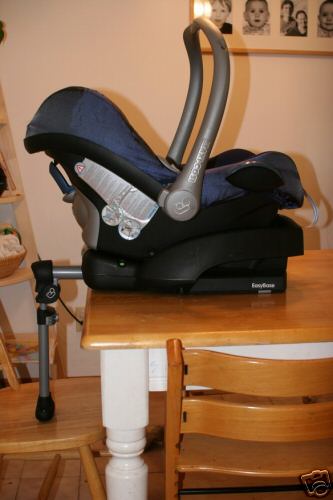 Now one of the basic rules about car seats is that you don't buy them used because you just never know for certain that they haven't been in an accident and had their structural integrity compromised somehow.
That said, this rig on eBay at the moment looks to be in pristine shape, and the longtime eBayer dad selling it--who's now outfitting for twins--says, "This car seat has NOT been involved in any accident."
Also, it's a penny. So you buy the Bugaboo adapters, the cocoon, and the IsoFix EasyBase for $230 combined, and the car seat's basically free? Do all car seat auctions involve off-eBay upsells? The gear and the price sound fine, but this just seems weird to me.
What sounds like a no-brainer, on the other hand, is the sweet Trofast cradle/bench that Erika Pekkari designed for Ikea way back in the 1990's. It's currently $31+40 or so shipping. The German-style canopy thing is optional.
MAXI COSI CabrioFix Infant Car Seat Navy Reflection, auction ends Aug. 17 [ebay]
Rare IKEA TROFAST Rocking Cradle Crib DISCONTINUED, auction ends Aug. 17 [ebay]