<!form method="get" action="http://dt-go.com/cgi-bin/mt/mt-search.cgi"> <!input type="hidden" name="IncludeBlogs" value="3" /> <!input type="hidden" name="Template" value="daddy" /> <!input id="search" name="search" style="width: 270px; height: 15px;" /> <!input type="image" src="http://daddytypes.com/search.gif" height="18" width="159" border="0"> <!/form><!br />
Fisher-Price Factory Owner Kills His Lead-Painting Self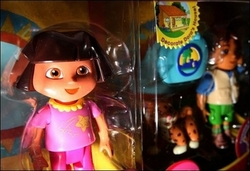 So a freelance reporter staged a story about Beijing pork buns being stuffed with soggy cardboard, not pork, and he gets sentenced to a year in prison for, as the Associated Press quotes it, "infringing on the reputation of a commodity." Serious stuff.
What could the punishment be, then, for infringing on the reputations of valuable Western intellectual property such as Dora, Elmo and Big Bird, not to mention Fisher-Price and Mattel? That's right: suicide.
Zhang Shuhong, co-owner of the Guangdong-based Lee Der Industrial Co. Ltd., which manufactured the nearly 1 million Fisher-Price toys recalled last month for lead contamination, hung himself over the weekend.
"It is common for disgraced officials to commit suicide in China," reports the AP matter-of-factly. Probably not common enough for the liking of some toy execs; the Thomas The Tank Engine factory owner's still around, as is Zhang's partner, and his "best friend" who supplied the tainted pigment. Maybe they thought, like I did, that loss-of-face-based suicides were more a Japanese thing, and that China's style was, you know, public shaming, kangaroo court, prison camp, kidney harvesting, and summary execution.
China toy boss kills self after recall [ap/yahoo via dt hk correspondent, scott]
awesome Dora-as-Chuckie file photo: AFP/Getty
Previously: Get the hell away from my kid, Diego! You're full of lead!
posted August 13, 2007 8:18 AM | add to del.icio.us | digg this
<!something is wrong with my adserver, so until I fix it, no ads>