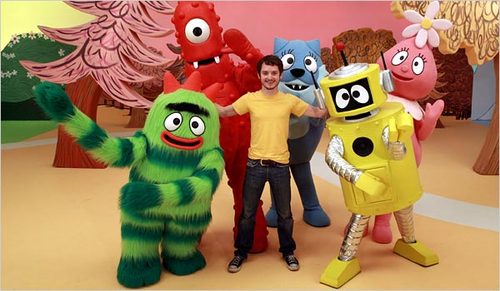 Yo Gabba Gabba debuts on Nick Jr and Noggin next week [August 20, set your playdates to stun], and David Itzkoff, the NY Times' man on the weird kiddish TV beat, has an abbreviated preview/profile of the OC/LA dads who created the show, Christian Jacobs and Scott Schultz.
One new thing I learned: Apparently, Nick Preschool honcha Brown Johnson is not prowling the indienet looking for new, hip hop renditions of HR Pufnstuf-meets-OG Sesame Street, complete with built-in merchandising hooks [DJ Lance Rock's toys come to life? Collect'em all, people! It's in the script!] after all. She was tipped off to Yo Gabba Gabba's online pilot by Napoleon Dynamite director/new dad Jared Hess. [Wait, so Hess is taking meetings with Nickelodeon? Hmmm.]
Also, there's are these choice anecdotes of life on the road from YGG guest performer/dads, James Mercer of The Shins and Kristian Bush of Sugarland:
"We're all reaching that age, and what are we going to do?" said Mr. Mercer, 36, whose wife recently gave birth to the couple's first child. "Do you actually have a playpen in the back of the tour bus? It just seems impossible now, after what usually goes on back there."

...

[Bush] said he had recently brought his 5-year-old son, Tucker, on tour with him for the first time. "He's been around shows before," Mr. Bush said, "but this was his first time sleeping in a bunk, and waking up the next day in a completely different parking lot."
I'm sure a national Yo Gabba Gabba Beatbox Tour with $50 tickets and a lobbyful of merchandise has crossed absolutely no one at Nickelodeons' minds.
In the mean time, Nick Jr. is offering up printable YGG iron-on transfers for free. Because the first time is always free.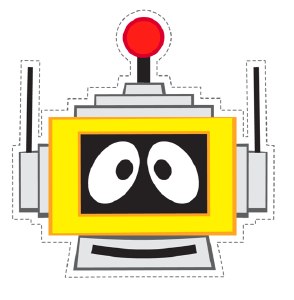 Yo Gabba Gabba: Charm The Children, Tickle The Parents [nyt]
Yo Gabba Gabba! Printable Iron-Ons [nickjr.com via yo blogga blogga]
Previously: On The Existential And Quantitative Implications Of Yo Gabba Gabba Going Prime Time