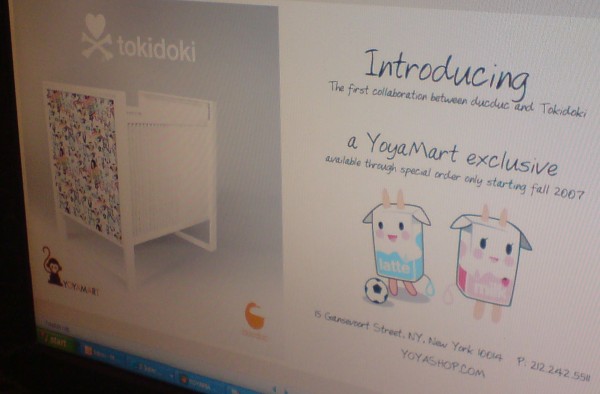 Colabos are nothing new for the indie and art toy world, but products for actual kids are. The plush & vinyl toy boom is a bit weird in that it ignores the traditional toy customers--children--in favor of still-a-kid-on-the-inside twentysomethings who have more money, more discretionary shelfspace--and less stringent product safety standards that enable random Billyburgers to sell toys without liability insurance because they're for "grownups."
One consistent exception to this kidblindness is Yoya, the West Village kid's store which recognized the appeal that slightly edgy, non-corporate, and exotic toys might have to families--kids and parents alike--who live in the city.
Now that sensibility has yielded a sweet, baby-related cross-pollination: a colabo crib. Simone Legno's toy and character company Tokidoki is teaming up with ducduc to make a limited edition of the company's fabric-panelled PJ Crib. Available for order only via Yoya starting in September, the Tokidoki PJ will feature fabric end panels with the company's Moofia characters.
No word on pricing yet, no word on anything, in fact. I just snapped a photo of the mockup on the Yoya computer, then schmoozed for permission to publish it. So stay tuned.
Yoya
regular old PJ fabric panel crib, $1,295 [ducducnyc.com]
Moofia by Tokidoki [tokidoki.it]