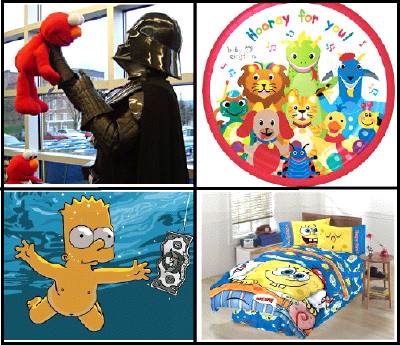 When most of the headlines about the latest results from University of Washington research into babies and TV focus on the endumbening effect Baby Einstein videos have on babies' vocabulary, are they missing the larger point? [Each hour kids 8-16 mos spend watching "Baby DVDs and videos," shaves 6-8 words off their vocabulary. By the time they're two, they might as well be watching Baby Huey videos.]
But that means that the other three categories of video programming, "non-educational children's" shows [e.g., Spongebob], "adult" programming [e.g., The Simpsons], and so-called "educational" show [e.g., Sesame Street] have the same, glorious developmental benefits, at least when it comes to kids' vocabularies.
So all this time we've been wrong to judge our kid's TV shows by the character of their content, when we should've been judging them by the color of their fur? [No Red.]
Drs Frederick Zimmerman, Dimitri Christakis and Andrew Meltzoff have made other dramatically important discoveries in the field of TV-watching baby-ology, which we will examine more closely after this word from our sponsor:
"All versions [of Abby Cadabby] featured various shades of pink- or lavender-toned skin, colors that would 'work well next to Elmo,' who is red, Ms. [Rosemary] Truglio [EVP, Education & Research for Sesame Workshop] said.
'That was not up for discussion.'"
Baby Einstein: A Bright Idea? [latimes.com]
PR: Baby DVDs, videos may hinder, not help, infants' language development [uwnews.washington.edu]