The Bugaboo Bee has left the building.
Here's a report from Joah, a dad with some foresight--and a new babywhip:
I just picked up my Bee at Babystyle yesterday. It was a good thing I was on the pre-order list because there where several people at the store wanting to buy or just look at a Bee but the manager was letting everyone know that they were all reserved. I was more excited than my wife when I finally got my hands on one and played with it all night... Not disappointed! Although I wish I could have purchased all the accessories I needed yesterday as well.
Any sightings or photos in the wild, let me know. I was told that a three-babied celebrity [not Seal] grabbed the last khaki Bee right before I could call it.
Whenever it does come, though, I'm gonna take it straight into the Everglades so I can use the mosquito net. Check that thing out. [image: bright.nl]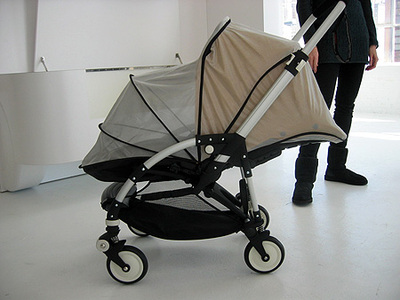 The Bugaboo Bee is shipping now from babystyle, $529 [babystyle]