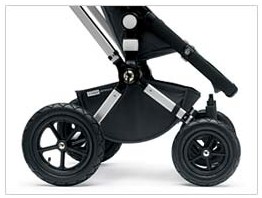 I guess I've been too busy dreaming up ways to smuggle 1,500 Bugaboo Bees into a Philippine prison to notice, but DT reader KS points out that there are snow tires available for all the Bugaboo models [i.e., the Cameleon, Frog, and Gecko (RIP)].
They're like slightly smaller versions of the inflatable rear tires, and when you put them on, you lose most of the pivoting radius, but I guess these would be pretty good to have.
Or would they? Anyone actually use these things yet? I can't actually find them for sale anywhere.
To be honest, when we went out in the snow and slush, we always just flipped the handlebar so that the big tires were leading. It was a little different handling dynamic, but it got us around Manhattan, at least, just fine.
Bugaboo Snow Tires [bugaboo.com > accessories]