<!form method="get" action="http://dt-go.com/cgi-bin/mt/mt-search.cgi"> <!input type="hidden" name="IncludeBlogs" value="3" /> <!input type="hidden" name="Template" value="daddy" /> <!input id="search" name="search" style="width: 270px; height: 15px;" /> <!input type="image" src="http://daddytypes.com/search.gif" height="18" width="159" border="0"> <!/form><!br />
Hermelin: Sweet Ikea-Colored Crib--From Ikea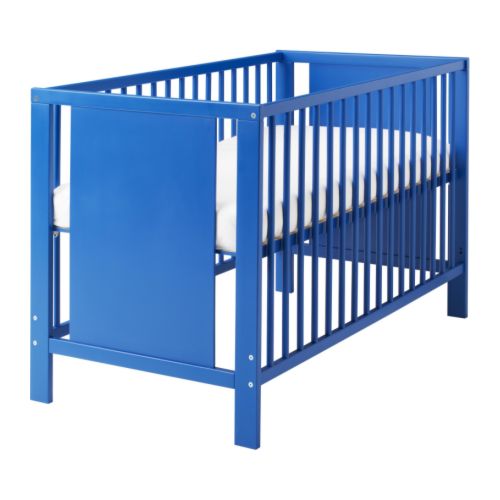 DT reader LC writes of the new Hermelin crib from Ikea: "Too bad it wasn't available a year ago. But then I might not have painted my son's Gulliver crib orange (which is awesome)."
Don't worry, I've already asked for pictures.
Meanwhile, on to the Hermelin: The sheer Ikea-blueness of this solid birch crib helps cultivate brand awareness in your infant faster than a bale of Muppet-covered Pampers. Just make sure you have the 59-cent diaper bag to match, and your kid'll be pooping meatballs before he can crawl. The only mystery, then, is the one that haunts every Ikea product: where the hell'd they get the name?
The Hermelins turn out to be a family of Swedish nobles, the most illustrious of whom was a drunk, failed, lunatic, vagabond named Eric Axel, born in 1860. After a long life of no-goodery, his distraught relatives finally had him confined to an asylum where, beginning at age 58, he proceeded to translate 23 volumes--over 8,000 pages--of Persian literature into Swedish. By the time of his death in 1944, it was said that there was more great Persian literature available in Swedish than in any other European language.
In other words, the crib basically named itself. Next question?
Hermelin Crib, $119 [ikea.com]
Eric Hermelin [wikipedia]
posted July 26, 2007 5:37 PM | add to del.icio.us | digg this
<!something is wrong with my adserver, so until I fix it, no ads>