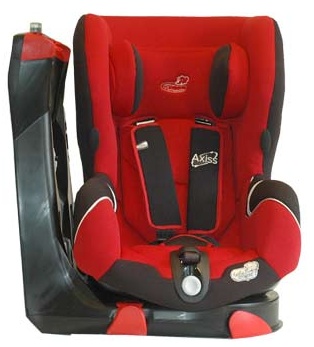 I always knew those French were up to something. Bebe Confort, the rival to our own Amurcan Baby Industrial Complex, has released the Axiss swivelling car seat for Group 1, the EU standard for kids 9-36 months old and between 9-18 kg:
The arrival of Axiss from Bébé Confort marks a turning point in the world of in-car safety. Resolutely centred around the ease of putting your baby into its car seat, it meets the needs of parents who, every day, want to use a practical car seat whilst still ensuring high levels of safety and complete comfort for their child.
First off, I don't know what a kilogram is; did you make that up? Also, spellcheck,
mon ami
; it's "while." "Whilst" is a card game my grandma played. And another thing, I'd think the world had more than its fill of French Resolutions back in 1879; so don't be bringing it back up now.
Oh, and finally, America already gave the world a swivelling car seat: it's called the Orbit Baby System, and it clicks into place from any angle you want. If you all weren't so busy trying to scam $1.40 out of us for one of your silly little pieces of play money, you might have known that . That thing's worth a buck, take it or leave it.
Bébé Confort Axiss Group 1 Car Seat [bebeconfort.com via dt reader and hemmings man david]