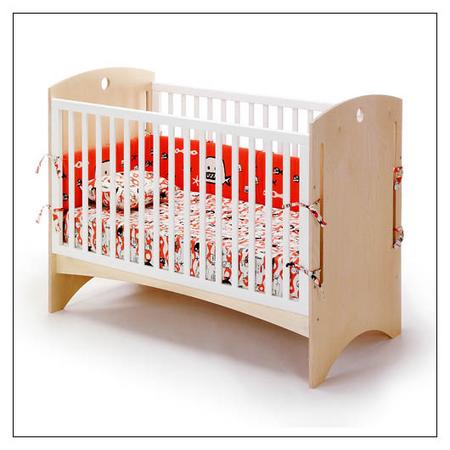 When did this happen? Here's a tip from an anonymous new dad reader:
I don't know if you've noticed, but Offi just made some major, across-the-board, price increases. In my book they are now completely out of the "affordable" range (their cribs are now $799 and $999!).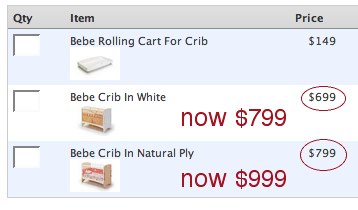 Sure enough, comparing these screenshots from Design Public to Offi's own webstore, it appears they've jacked the prices on their BeBe 2 Crib $100-200. The Bebe 2 Dresser/Changing Table's still $599, but the taller Cabinet jumped from $499 to $599.
Also, the Offi Box Bench just went from $499 to $599. Why, I bet you could make one for less than half that in the garage of your rental house! But New Dad's not through:

Is it just me, or wasn't part of the whole idea of modern design (especially the ply/Eames variety) to make the products be affordable? I think there is a real hole in the marketplace - I guess Oeuf's Sparrow is the most reasonably priced modern children's line outside of Target-world?
Well, it's not just Oeuf; Truck/Nurseryworks, Argington and Netto have all made moves into the $500-700 crib range lately, but you're right, dad, that the point/promise of modernism was supposed to be affordability and the democratization of good design. But isn't that what Target's for? Yeah, capitalism?
I understand why things are expensive (plywood is not cheap any more, nor is it environmentally ideal), but it sure seems like a mom&pop could put out something like the Slotti Crib in a less sexist style.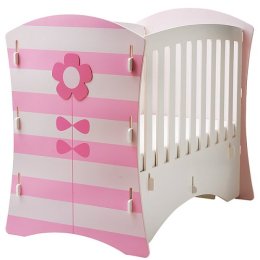 I totally agree. The Slotti Crib is sweet, but unbearably sexist. Could someone beat Target at their own discounting game by making an affordable modernist crib on a small scale? Or would it just make more sense to set up a custom painting business and just travel the country tricking out peoples' Slottis? The crazyman at Schneider's told us that the unpainted Jenny Lind we ended up with was a favorite among the makeover crowd; they'd buy it for $150, shabby chic it up [ugh], then sell it at ABC Carpet for $1,600. Screw that, but tell me: what's the market for $250 Slottis--or that $85 Ikea number, even--with a badass $300 airbrush or pinstriping job?
Offi Kids | Bedroom & Nursery vs Offi @ Design Public [offi.com, designpublic.com]
Slotti Candy Girl Crib, with pink stripes and flowers, $250 at Target [target]
Oeuf Sparrow Crib, at DT advertiser Sparkability [sparkability]
Previously: Slotti Crib by Cosatto; Oeuf Sparrow