The visionaries at Pandiscio have graciously provided a color version of Bela Borsodi's portrait of Cuddle Me Condos, and I think we can all agree that One Kenmare has never looked moodier, Urban Glass House has never looked whippier, 40 Mercer has never looked floozier, and Cipriani Club has never, well, let me just say I hope my uptown wife looks half that downtown trendy and well-renovated when she's 170. Leopard print pumps!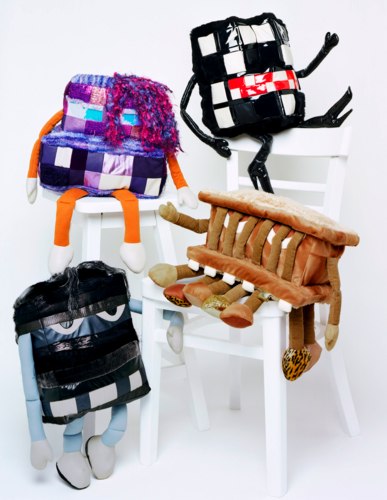 Anyway, I also got a note from Andy Hawgood informing me that it was not he, but his brother Alex who had written the article for Pin-Up Magazine. Since I haven't had the pleasure of meeting either of the Hawgood Brothers in person, I realized I'd made the Andy/Alex mistake in my head. And that got me thinking.
I rarely get called Craig, but people who don't even know I have a brother call me Jeff all the time. Somehow, Jeff and Greg--and now, it seems, Alex and Andy--are paired up, interchangeable in peoples' heads. There's some kind of dna-level similarity beyond just a sound or structural ressemblance. It's like the names are siblings before they're ever given to siblings. Why is that?
Everyone knows families who give all their kids Bible names, or "J" names. Or twins with matching names. But what about this idea of sibling names? Is it real? Or is it just me? [And my brother Jeff, obviously.]
Previously: Cuddle Me Condos Residential Starchitecture Plush Toys