I gave ModMom a lot of grief for choosing to make and sell knock-off versions of prominent indie design companies like Offi, NotNeutral, and Argington. But wait, explains one ModMom Furniture Posse Member, isn't that what those companies are doing, too? :
Also, I find it intersting [sic] that not a single one of you have noted that although Argington, and Offi have created really beautiful pieces worthy of re-creation... are they truly "original"?? Looking through 1950's furniture design I can find some pretty simliar, if not "exact" pieces and styling, to what they are doing now!
Good point: ModMom Furniture's pieces are re-creations, and the other companies designs aren't. I haven't been able to find any "exact" vintage designs like theirs, either.
But I have found a whole fleet of awesome, vintage modernist play furniture designs that are crying out for knocking off. This stuff is not only worthy of re-creation, it's long overdue. When pieces still exist at all, they're either buried in the storage closet of a day care center in Lappland or in a museum.
So if you like playing fast with a table saw and loose with your umbrella liability insurance policy, please. It's all flat cuts, no turning, rounding, or bending, so start making some of this stuff pronto:
5] The Joker series, above, which Lindau & Lindekrantz made for Swedish daycares and libraries in the mid-60's. The pic's from Form Magazine's archives.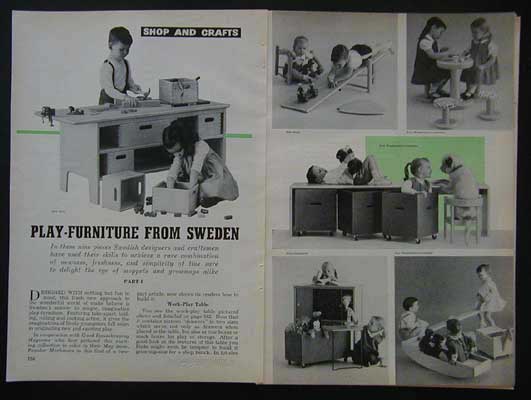 4] Design Quarterly 57, published by the Walker Art Center in 1963 is a great place to start your knock-off research. The whole issue's devoted to kid's design, and it includes a better picture of Evy Westerberg-Levander's 1960 Work Table & Toy Storage, a beautiful, long table with painted wood boxes on casters, than the one above [middle right, btw]. On the other hand, the one above comes from a 1962 issue of Popular Mechanics that includes actual blueprints, too, which carries you pretty far down the field.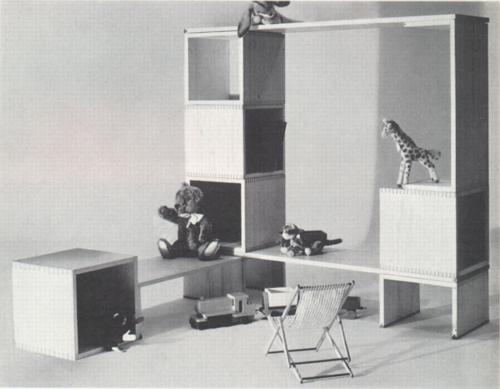 3] Hans Gugelot designed this modular cube/plank/bench system for Grunzig in the early 60's. A basic element like a cube should be a good jumping off point for innovation, as both Via Toy Box and P'kolino have demonstrated. This pic is from Form Magazine, too, one of several, circa 1963.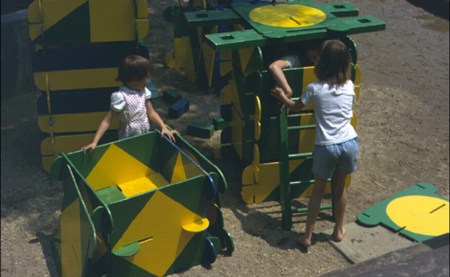 2] I've talked to half a dozen playground designers and parks department administrators over the last six months, and I still can't find out who actually designed this awesome, slot-together playground set. Maybe knocking it off will help flush the original designer out of hiding, and we can sing her praises.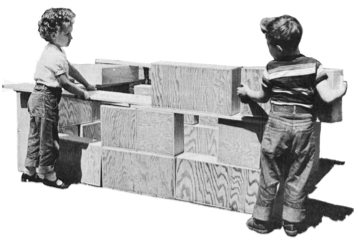 1] But the Holy Grail of missing kid's design is also among the easiest to recreate. I can't figure out why more people aren't making these right now. I'm talking about Frank Caplan and Martha New's Hollow Block system, designed for Creative Playthings in the late 1940's. Hollow Blocks were open on one side and easy enough for a toddler to carry around. Their modular regularity meant they could be turned into any kind of furniture or none at all. They were the epitome of the "unstructured play" and creative facilitation that CP--and all mid-century modernist design--was built on.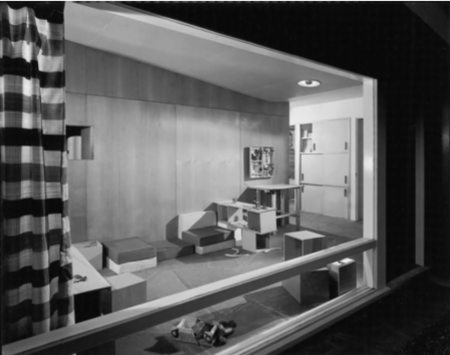 When the Museum of Modern Art built Marcel Breuer's 3-bedroom Project House in its courtyard in 1949, all the furniture in the kid's room was made from CP's Hollow Blocks. [that's Ezra Stoller's photo above, and a CP photo on top, via Amy Ogata] If someone'd start making these again, I could stop dumpster diving outside all those pre-schools and get a decent night's sleep again.