<!form method="get" action="http://dt-go.com/cgi-bin/mt/mt-search.cgi"> <!input type="hidden" name="IncludeBlogs" value="3" /> <!input type="hidden" name="Template" value="daddy" /> <!input id="search" name="search" style="width: 270px; height: 15px;" /> <!input type="image" src="http://daddytypes.com/search.gif" height="18" width="159" border="0"> <!/form><!br />
Greenham Anti-Nuclear Demonstration 25th Anniversary Colouring Book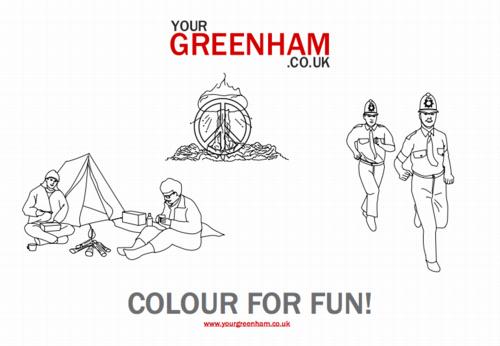 It's a travel day; the kid and I are flying back from Gram's house to our house, and so I was packing the crayons in the plane bag, wondering what the kid'd color on. Fortunately, the UK Guardian's website commemorating the anniversary of the Greenham Common Women's Peace Camp really puts the "u" in "colouring book."
Beginning in 1981, Welsh and British mothers, grandmothers, and other women staged a prolonged, impassioned, and media-savvy protest against the US military stationing nuclear-tipped Cruise Missiles on an RAF/NATO air base.
The 11-page colouring book includes a lovely peace sign over a mushroom cloud and some bobbies dragging a lead-footed mum away. Classic stuff.
As for taking peacenik pictures on a plane, I figure as long as there's one old dude at the TSA checkpoint at the Salt Lake City airport who remembers the MX Missile protests in Utah around the same time, we'll be fine.
post-flight update: Actually, the hardest part turned out to be explaining why the policemen were dragging that lady away. As for the TSA, they were more interested in confiscating my more-than-half-empty 5-oz. tube of Kiehl's shaving cream because it was over the 3.5-oz. threat limit. Feeling safer yet?
Your Greenham: Children of Greenham [yourgreenham.co.uk via boingboing]
posted July 13, 2007 9:48 AM | add to del.icio.us | digg this
<!something is wrong with my adserver, so until I fix it, no ads>