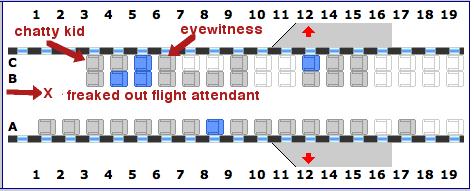 A mom and her 2-year-old son were removed in June from a Continental ExpressJet flight from Houston to Oklahoma City because the kid kept saying "Bye, bye, plane" through the safety demonstration:
"As she finished, she leaned over the gentleman who was sitting next to me, and she said, 'OK, it's not funny anymore. You need to shut your baby up,'" [mom Kate] Penland said.
the flight attendant also reportedly said, "it's called baby Benadryl" and made a drinking motion.
The flight attendant then reported a "passenger disturbance" and turned the plane back to the gate, where police took the mom and kid off.
Now the CO IAH-OKC flight is an Embraer RJ145, a 50-seat, 1-2 configuration. It's a pretty cozy flight to have a jabbery lap baby next to you, but according to a passenger three rows back, the kid was no louder than any adult passenger. Also, the flight had been delayed 11 hours. 11 hours.
And anyway, it's a waste to drug a kid for a 90-minute flight. All it does is turn them into handle-less, carry-on deadweight for the remaining 4.5 hours. Continental's got some 'splainin' to do.
Talking toddler and mother removed from flight in Houston [abclocal - ktrk via consumerist]