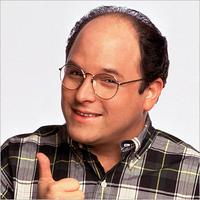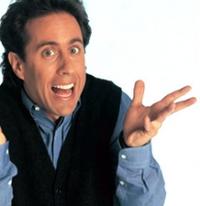 Time was when, if you wanted to make a me-too version of whatever TV show is popular right now, you needed a massive studio infrastructure staffed with hundreds of people, including a suiteful of development execs who'd pay their Hasty Pudding buddies six figures to punch up your script, make it sound more, you know, Entourage-y.
Then like five years ago, the digital video revolution hit, and any monkey with a handheld camera and the dimmest slacker from Brown could whip up a reality show, Just throw some storylines at a bunch of wannabe actors stuck in a house in 29 Palms for ten days. Edit that together on your Mac--BAM. Like printin' money.
Now with the YouTube and such, all you need is a webcam and a teenage niece, and you can create your own LonelyGrrl-esque drama and upload it before your brother even gets to the back nine.
It's these valuable lessons--along with some poignant childhood memories of her dad woodworking in the garage back in Defiance, Ohio [really?! we can totally use that!]--that inspired Los Angeles mom-slash-"ex-TV network exec" Kiersten Hathcock to launch Mod Mom Furniture out of her own presumably larger garage workshop.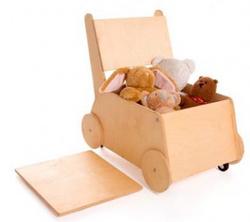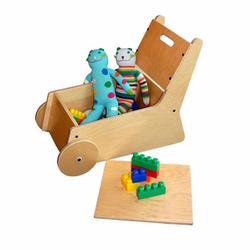 Mod Mom makes kids furniture "for families looking to go mod at an affordable price." Brilliant! Why line the pockets of the bums at Not Neutral by paying $250 for a Toy Caddy? It's only got two wheels! A Mod Mom Push Cart's got four, and it's only $175. [Actually, are those casters under there? It has eight!]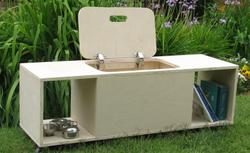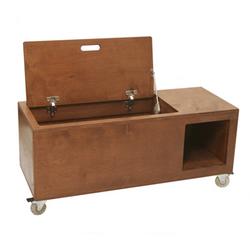 And how do those corporate fat cats at Argington think they can get away with charging $420 for a lopsided Fuji Toy Box with only ONE cubby? The Mod Mom Mod Box comes complete--with TWO--and it's just $375.
Mod Mom's been mentioned on half a dozen design and parenting blogs, but no one's called her out on this knock-offery? Look here, people, I'm all for affordable minimalism, making your own damn furniture, even knocking off brilliant design by others. I made a crib-sized copy of a Donald Judd daybed for crying out loud. But that's only because Judd didn't make cribs, and because his furniture sells for $70,000 and up, a decidedly different market. Also, I acknowledge my sources, it's the whole point, actually.
There's a world of difference between that and hiring some amigos in a 7-11 parking lot to rip off existing products by independent designers, which you then sell to a bunch of Northridge cheapskates looking to save fifty bucks.
Since the dawn of the modernist era, there's been a whole freakin' universe of amazing kids designs that's gone out of production--or that never even made it in. Why not bring back play furniture inspired by Bauhaus pioneer Alma Buscher? Or the awesome, modular playset by Stephan Gip, Fun On Wheels? Or hello, Nomadic Furniture anyone?
I guess it's the difference between TV and movies: TV takes whatever's hot at the moment and replicates it to death. But the movies breathe new life into old classics. Like Bewitched: The Movie and The Brady Bunch Movie. Uh..
Don't even get me started on the Lego Table [sic]: Mod Mom Furniture [modmomfurniture.com]
Update post here: Please, Someone, Knock Off This Kid's Furniture