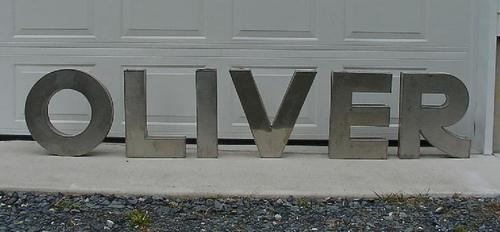 If you're on the fence about the name Oliver, maybe this will help settle things: there's a vintage Oliver Tractors sign for sale on eBay that's made of 3-D stainless steel letters, each 18" high. Un. Be. Lievable.
As Andy notes, "parents of Roe, Olive, Leo, Liv & Levi" should also take note. I would invite the parents of Evil to particpate as well, if only because we'll need all the help we can get to keep these letters out of the hands of voracious tractor collectors.
update: AJ points out that parents who named their baby Rove might also want to bid. Of course, if they don't win, they'll find some way to steal the letters anyway.
result: sold to a dude named Oliver for $306. congrats!
Vintage Oliver Tractor Stainless Steel Sign Letters 18", auction ends July 14 [ebay via storkbitesman, Seriously, Andy has some kind of e(Bay)SP or something. How does he find this stuff?]