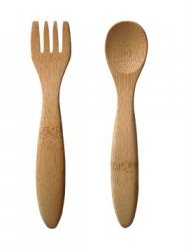 Everyone has his special purpose; it's just a question of finding the right time for it. Bambu's is making plates and bowls out of bamboo. And the time to use it is now, when the earth is teetering on the edge of petroleum-and-plastic-induced environmental catastrophe.
Not that buying Bambu's bamboo fork+spoon sets for babies and toddlers alone will save the planet or anything, But every little bit helps, and if using bamboo means you forgo a couple of packs of tossable plastic spoons a year, I'm sure a tree somewhere will thank you.
Oh yeah, don't let the 'Made in China' label scare you; as a socially conscious company, Bambu monitors everything from health, safety and sustainability to working conditions for their imported products.
Bamboo spoon+fork sets, for babies (2pr/$12) and toddlers ($7/pr) by Bambu [branchhome.com]