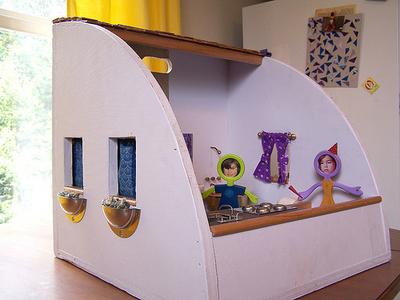 Wow, it's amazing how the same basic idea--make the kid a modernist dollhouse out of recycled building materials--can have such different executions. Dutch's Miesian townhouse is spare and unfinished to an extreme, letting the kid play God by filling in the details. Meanwhile, Oregon dad Dan Borg took an awesomely inventive approach, transforming the most random bits of hardware into entirely plausible, realistic fixtures and finishes.
Borg's got several jumps no Dutch, though. For one thing, he lives near the ReBuilding Center, The Home Depot/St. Peter's of the sustainable reuse set. Second, he worked there.
Check out the size of the bathroom in Borg's doll house, too; it's like half the space. Hanging out with all those renovators, he must have Master Suite stories running through his brain 24/7.
Recycled Doll House by Dan Borg, including a partial list of recycled components [flickr via RC's Jennifer]