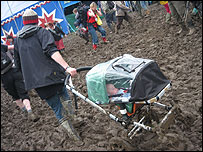 Keep this scenario in mind before you a la carte your Bugaboo. Because it totally could happen!:
You decide to take your four-month-old kid to the Glastonbury Music Festival. Though you planned ahead and got his little ear-protecting headphones, a few days before the festival, it pours rain, and you realize that, because you wanted to save fifteen bucks, you don't have a rain cover for your Gecko.
Fortunately, it didn't happen to the Jeavans family. While daddy Stu was slogging through ankle-deep mud and changing diapers on the bar, mama Christine was busy writing up the adventure for the BBC. Finn seemed to enjoy himself, sleeping all the way through Iggy Pop's set.
Babies in the mud [bbc.co.uk]