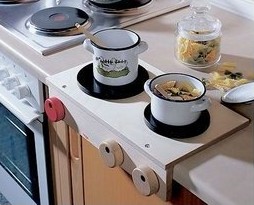 This was so cool. I saw this at Kid-o yesterday, and it was immediately obvious that this Play Cooker from Haba is the perfect toy kitchen for city living or for cultivating brilliant, possibly misunderstood, writers.
No bigger than a laptop, all you do is drop it onto the edge of whatever flat surface you've got, and voila, it turns it into a stove. By getting your kid this toy, not only will you be saving loads of space in your own apartment, you will be doing him an invaluable service, preparing him for life in tiny studio apartments with galley kitchens--maybe even a boarding house with nothing but a hot plate!
No doubt, he will dedicate at least his first ten self-published volumes of concrete poetry to you in return.
Haba Play Cooker is $33 at Amazon [amazon]