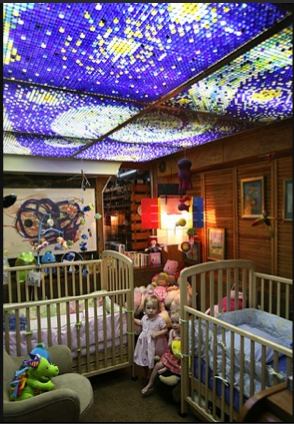 Thank heaven New York still has a few flatout crazy people left. And that they don't live on our block. I clicked on the NYT slideshow hoping to see more pictures of the cuh-razy fun real estate battle brewing on a boring block of the "Village" [15th between 6th & 7th is the Village now?] where some developer bought the building next door to their house and is building a tower with a $6.6mm, wacked out, pod penthouse cantilevered off the top. What'd I get instead?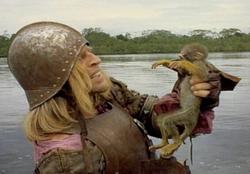 A tour of the Rath family's wood-lined duplex, which was inspired by one of the world's great rivers, the Amazon. [haha, if only. It was actually the Yangtze] Do I need to add they did most of the work themselves? You can't just buy vision like this off the shelf.
The fiber optic stars in the 2-story living/family room ceiling re-create the constellations as seen on the Yangtze [and, presumably the rest of the Northern Hemisphere]. The 20'-high waterfall/fireplace/koi pond follows the shape of the Yangtze. [If only they had a grand piano, it'd look just like that great Korean BBQ on 32nd street. North side, just east of Bway, name escapes me. Anyone?] Do I need to tell you they excavated it themselves with 5-gallon pickle buckets?
And the twins' nursery has a backlit, Lite-Brite-style drop ceiling version of Vincent Van Gogh's masterpiece, Starry Night Over The Yangtze.
Not In My Front Yard [nyt]
Slideshow: Water as an Inspiration [nyt]
123w15 [123w15.com]
Previously with the in-floor pools: Architect builds tripped out dreamhome, then has twins