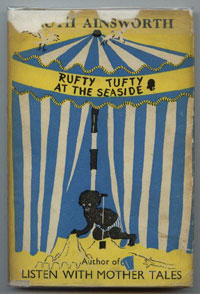 So while trying to find out what the HELL is up with a series of kid's books from as late as 1960 about characters called Nicky and Nigger, I did a Google image search for Dorothy Craigie and found little besides the Rufty Tufty series by Ruth Ainsworth.
With such adventures as Rufty Tufty At The Seaside and Rufty Tufty Flies High, I guess he's like Little Black Sambo's British cousin.
I can't surf up any discussion of Rufty Tufty, or much on Ainsworth, either. UK rare bookseller Xanadu Books has the couple of copies pictured here for sale, and discusses how many illustrations of gollies and golliwogs there are in each one.
Golliwog??