The Chicago auction house Wright20 has been a major force in the modern design world since Frank Lloyd's market started picking up. When Andy sent a link to their upcoming modernism sale, I thought there are some interesting vintage pieces [Eero Saarinen, early Eames], but the real surprises are the contemporary stuff [hello, Droog? Ron Arad??].
At this rate, we should be seeing vintage Oeuf cribs coming up for auction by 2010. Better get a chewguard to protect your investment.
Here's a scan of the kid-related furniture coming up for sale June 23:
First, some vintage:
Lot 221: There's an example of that post-Bauhaus, Schaukelwagen, aka the Swing Racer rocker/ride-on toy by Stam/Brandt/Brockhage, est $1000-1500. The estimate's European-high, but at least you don't have to ship it as far. [See the DT post on it here.] [result: $1200. all prices include 20% premium.]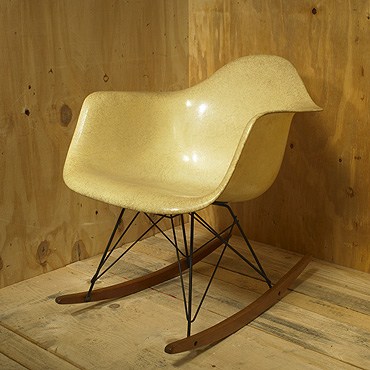 Lot 360: A cream-colored rope-edge Zenith-era Eames Rocker, est. 900-1200 [result: $1,320]
Condition's a factor, of course, but if that estimate holds, it's a deal [or modern supply is holding down vintage prices]. In the old, old days, Eames chairs had a twisted cord laid into the fiberglass edge so that they could be pulled from the mold. It's the difference between "original" and what Herman Miller calls "true to the original and fully authentic [no, really!]" [the URL says it all: www.hermanmiller.com/eamesplasticchair/]
[Actually, if you can't wait until the 23rd, there's a sweet-looking, orange rope-edge Zenith RAR on eBay that ends on Sunday. Bidding's at $405 right now, plus $60 shipping.] [result: it went for $610+s/h]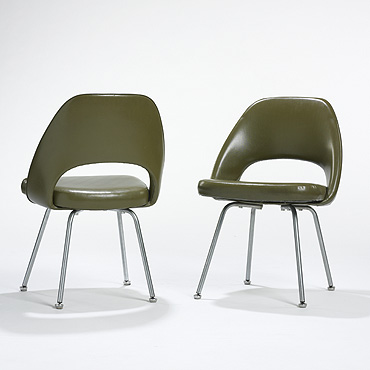 Lot 145: pair of Eero Saarinen Series 71 Children's Chairs, est. 300-400 Saarinen made children's chairs? How'd I miss and/or forget this? This is a mid-century staple, and avocado vinyl seems like the perfect kidproof finish. [result: $240, not bad.]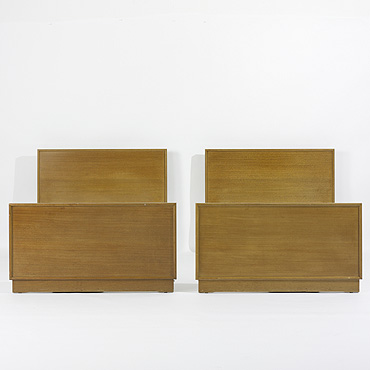 Lot 321: Edward Wormley twin beds for Dunbar, est. 300-400
With Lucy and Ricky dead, the only logical place for these sweet, bleached mahogany beds is in a kid's room. [So H&G, why no modernist dream room in that slideshow, hmm?] [result: $600]

Yeah, yeah, old is old news. What's new, you ask? Well, how about a Droog high chair?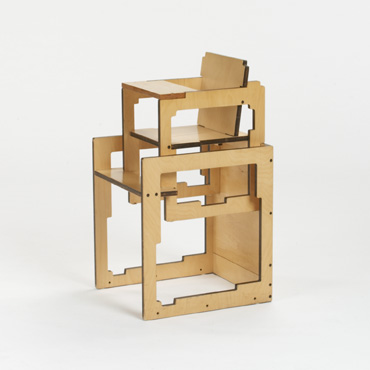 That'd be great, but Lot 383 is actually only a high chair, "In the manner of Droog", c. 2000, est. 500-700. Huh? Does anyone recognize this birch ply chair/table converter? The auction house says it's from Holland, and the design is certainly "in the manner of every freakin' high chair in every baby store in the country," but Droog, really? If you want to wait until you scoop it up for nothing before telling us, that's fine, too. Until I hear otherwise, though, I'm not buying it. [I'm not buying it anyway, but you know what I mean.] [result: $245, means no one, maybe not even the lone bidder, thought it was Droog, either]
And the winner of the "Whoa, seriously? How'd I miss that?" award goes to...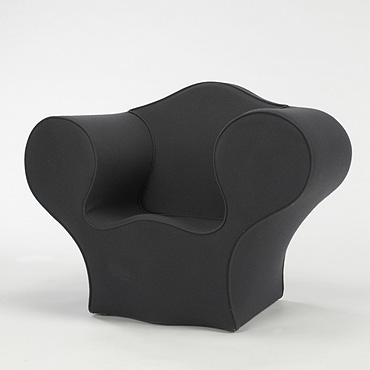 Lot 139, a Big Soft Easy children's chair by Ron Arad, c. 1995, est. $2000-3000
I mean, I knew in theory that the polished steel version of this chair that was in the lobby of Schrager's Paramount Hotel was not the only version in existence. But I had no idea Moroso actually made a children's version. I always disliked Arad's chair's Look At ME! showiness, but I have to say, it seems perfect for a kid's chair. I'd pick a showier color than gunmetal pewter, though. Still, nice work. [result: $2,400 made the low estimate]
The Mass Modern auction at Wright20 takes place on June 23 [wright20.com, thanks to andy for the heads up]