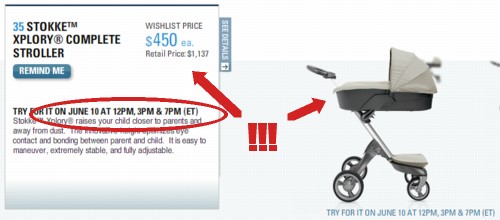 I've never quite gotten into American Express's My Wishlist program, partly because I'm not a big random impulse shopper. And also, I kind of assumed that offering a small number of products at a HUGE discount was just a ploy to collect new, marketable information about my shopping preferences.
But then I realized, "Hey, AmEx already knows everything I buy anyway, what's the big whoop?" And reading through the program's FAQ, it actually says the program is "our way of saying 'thanks' to our Cardmembers." And what're the odds that they'd datamine you at the very second they're saying "Thanks," right?
And who cares, mine away! They're selling 75 freakin' Stokke Xplory strollers COMPLETE for just $450! Carry cot bassinet and everything. That's $687 off the regular retail price. No manufacturer is looking to generate leads from customers clamoring to spend 40% of MSRP. It's win-win!
The Stokkes will be released in three batches on Sunday, June 10th, at 12PM, 3PM, and 7PM ET. You need to be an AmEx cardholder to buy a product on My Wishlist, and you can log in 30 minutes before the drop. If you're already sold on the Stokke, and your brunch plans are flexible, why not take a run at these rigs? [And if you're a survivor--winner or loser--of an AmEx Wishlist frenzy and can give any tips, insights or warnings about the process, let a noob know.]
35, 25, 15 Stokke Xplory Complete Strollers, Wishlist Price: $450, June 10 [amexnetwork.com via dt reader nicholas]
update: Since he says he's not going after the strollers, DT reader Chris has a few tips for Wishlist Mastery after the jump. Remember, there's a difference between "all items in other members' carts" and "item sold out."
Be sure to register your card before any of the release times by using the unlocking step (up to 30 minutes prior). Then keep your card handy.
I'd suggest you try for some of the wish certificates (or even the big items - you don't need to actually buy them) between now and when the strollers are released Sunday. The certificates don't cost anything to win and that way you get a feel for the process (especially the all important timing of the mouse click).
Even if you click on the button while trying for an item and a message comes up telling you that all items are in other members' carts (which is a strong possibility) keep clicking. Those with the items in their carts have 6 minutes to complete the transactions. Some people like to try for every item just for the thrill of the hunt and will "throw back" the item rather than actually purchasing it. Or else there are those who simply don't complete their purchases it time. The items are then re-released for those members who are still desperately clicking away.

I've been able to get some things several minutes after the hour because someone somewhere threw it back into the pool.

At some point a message will appear saying "item sold out" -- at this point the frenzy is over so you can stop clicking.