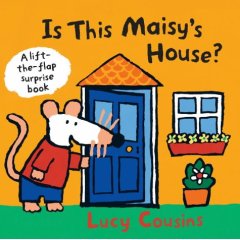 You ever have one of those parenting moments that stops you dead in your tracks, and you break out in a cold sweat? Like when you find yourself agreeing with New York Magazine sex-makes-babies columnist Amy Sohn about something? Sohn and her husband have differing views on letting their 20-mo kid D watch TV: she's generally ambivalent to the idea, until she comes across Susan Gregory Thomas's book, Buy Buy Baby: How Consumer Culture Manipulates Parents and Harms Young Minds:
I read it cover to cover the night I got it: in the living room as I fed D in front of The Simpsons, in the bathroom as she flipped through her waterproof Elmo storybook, in my bedroom after I read her one of her twenty Maisy board books. And I got scared.

Thomas argues that marketers are aggressively pursuing zero-to-3-year-olds with TV shows that claim to be educational but are really about creating character recognition and selling toys. In a chapter called "Elmo's World," about the licensing of TV characters, she detailed the money that Nickelodeon has made from Dora: In 2005, it raked in $250 million from her video sales alone. And 12 percent of Nickelodeon's total profit came from licensing revenues (other networks average about 2 percent). I began to wonder whether Dora the Explorer was just teaching D to love Dora.
The twenty Maisy board books reference did it for me. As it happens, the kid and I were at the library this morning, returning her first book and test-reading some others to bring home. I'd already refused to read a Dora book to her with the line, "Dora stays on TV, kid-o," but then a few minutes later, as we were working our way through a basket of boardbooks, she pulled out a book called,
Is This Maisy's House?
, and I figured, she's never seen Maisy on TV, one read wouldn't hurt.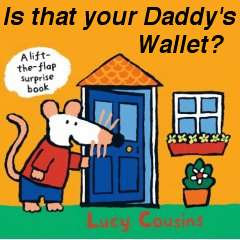 The book is crap, a pointless tour through a bunch of surprise flap pages disguised as a search for Maisy. There are four meaningless items per spread that the kid's supposed to find in the picture; we didn't even bother. As we were reading it, and I thought about the irrelevant but ostensibly beneficial picture matching, it occurred to me that the real purpose of the book was exactly what Thomas said: building character recognition. And that pissed me off.
I'd wondered about that long before the kid started asking for a Zoey diaper, because Zoey's her favorite, while her Huggies-wearing cousin prefers Ariel. I still wait to see the CTW/P&G research that shows the character awareness value of putting Muppets on newborn Pampers.
TV or Not TV [nymag]