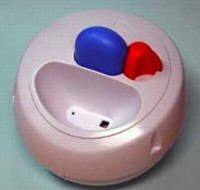 The Fertell male fertility test popped up around here last year when it was introduced in the UK. While its innovative adaptation of clinically proven sperm motility testing to a self-administered, at-home setting is laudable, especially because men are apparently/supposedly less likely to go for fertility screening, the Fertell was most memorable for looking like it came [sic] from Fisher-Price.
Now after receiving FDA approval, the test goes on sale in the US today. It's packaged rather smartly as a set, one part of "the first at-home fertility screening test for couples."
The Fertell US site has an informative demo video [SFW, but there is narration] that explains how the test works:

avoid producing a Semen Sample for 2-7 days [suggested discussion topics: Rudy Giuliani's credibility on national security issues in light of his sponsorship of Bernard Kerik as Homeland Security Chief; the Utah Jazz in the playoffs; LOLCATS].
produce a Semen Sample.

put it in the Collection Container [below].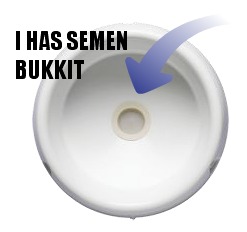 push the blue button to release hyaluronic acid, which simulates cervical mucous, into the Sperm Swim-Up Chamber.

Wait as the motile sperm swim through the Valve, are tagged red via anti-body reaction and tallied [below].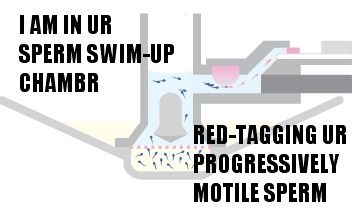 If the density of your progressively motile sperm, or PMS [heh], exceeds the WHO guideline of 10 million PMS/ml, you're good to go; get back to work. ["The male is advised to continue the process of trying to conceive, within current clinical standards."] If not, you're good to go to the doctor for consultation. Turns out men are just as likely as women to have the fertility problem.

The Fertell At-Home Fertility Test is $100, not including drinks and dinner. [cvs.com]
Fertell US site [fertell.com]
At-Home Fertility Screening Available for Men [nyt]