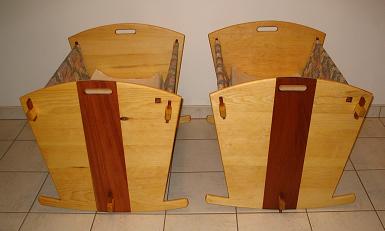 The New Chinky Workshop began when Crazy Asian Uncle Dude decided he could make a better table cheaper for his nephew's Thomas The Tank Engine set.
Then his sister had twins, so CAUD whipped up a pair of pine-and-mahogany cradles, complete with sweet mortise-and-tenon joints. Grandma got all Sound of Music on a set of old curtains, sewing them into the triple-seamed mattress-hammocking sides. [Does it need something to keep the mattress from folding up around the edges like a fajita?]
The cribs were designed to fit standard bassinet mattresses, and there's no obvious safety standard violations, but there's also no explicit mention of any efforts to factor the regs into the design. I always feel better starting and finishing my kid design projects by checking them against any applicable safety specs. But then, maybe that's the difference between a dad and an uncle.
Big Double News!!, about 1/3 the way down [thenewchinkyworkshop.com]