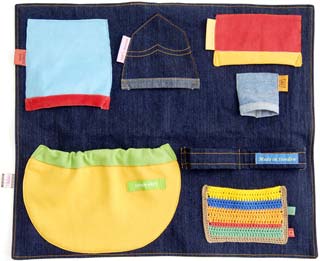 So Pia Eriksson's idea for designing the Thilde Pocket was to buy her and her baby daddy some more time in the morning, by giving the kid [Thilde, obviously] something to entertain herself with. See, it just velcros over the side of a crib.
Sounds great, unless your kid wakes up hungry, in which case, you'd need an insulated gelpack pocket with a self-serve bottle prepped and ready [idea to be tested out on someone else's kid: put frozen bottle of milk in crib at night, see how cool it is in morning].
Or if your kid just gets amped up by loading and unloading pocketsful of toys, you'd need to drop a video iPod into one of those things. But if you can hypnotize your kid with TV, why the Pockets? Just mount the monitor on the wall and let the kid snuggle with the remote.
The Thilde Pocket, 380SEK, which is about $US54, shipped [thilde.se]