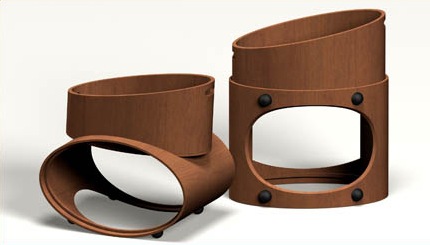 Has it been a year already? Designer Heidi Newell showed off the prototype of her Shaker box-inspired, molded birch ply bassinet last year in Offi's booth at ICFF. Since then, though, it's been as silent as a singles bar in Sabbathday Lake. [See, the Shakers were celibate and didn't drink much, and so a singles bar in a Shak--never mind.]
Now it turns out Offi is debuting the production version of this sweet bassinet, now dubbed the Ovum at this year's ICFF, which kicks off tomorrow in NYC.
It looks like the Ovum survived safety testing and managed to jump through the final engineering hoops with the original concept largely intact. When the larger oval base is on its side, the bassinet can rock back and forth. When the base is on edge, the bassinet rests solidly on the ground. It's an intuitively obvious, elegant, and rather unexpected design solution.
The rendering above shows a dark finish, but there should be a natural birch finish as well. If you're a Daddy Type who'll be navigating the narrow, crowded passageways at ICFF this weekend, why not try to connect up with Offi's Ovum? Then you can tell us all about it.

Offi Introduces the Offi Ovum Bassinet by Heidi Newell [offikids.com]
Previously: Offi Oval Bassinet from ICFF