So I'm clicking through NY Magazine's Home Design issue, The Next ____, and what do I find, right there near the end of the The Next Everything slideshow?
"FURNITURE IS THE NEXT KNITTING
Vintage copy of early-seventies DIY manual Nomadic Furniture, about $8 at amazon.com."
And then as if to take the nomadic antics to their logical extreme, whose kids' rooms show up in the big "The Next White" feature, but my friends Sharon and Richard, who fled to an instantly redone rental when a pipe burst in their just-redone apartment. If you ever wondered what it'd be like if, instead of fighting the bright colors of the children's design world, you just went with it, now you know. I'm inviting ourselves over for a playdate right now.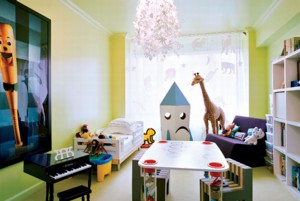 Anyway, in their son's room, past the Marcel Wanders play table, across from the Ugly Dolls, and behind the Oeuf toddler bed, is a Keith Haring ride-on baby!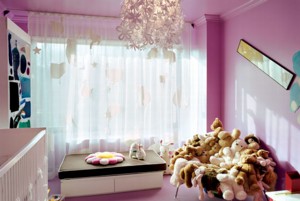 Meanwhile, while the caption namechecks their daughter's ducduc furniture and Maurizio Cattelan photograph, the Bozart Kaleidoscope doll house gets no love at all [that's the chimney poking up there on the right.]
Also, forget Disney. I want to see the Campana brothers make a chair out of Takashi Murakami plush toys.
Previously: Nomadic Furniture 2: Kidgear Boogaloo