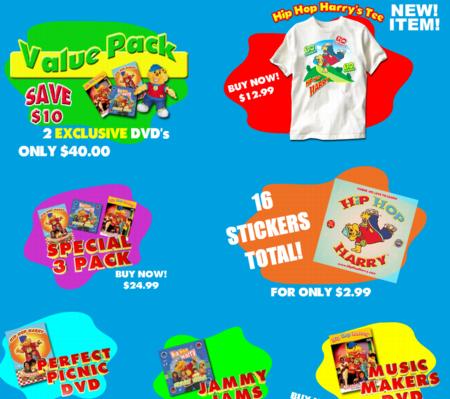 Holy Moses, what message are we sending to our kids when Tupac's dead, 50 Cent has been shot five dozen times, and yet Hip Hop Harry walks the streets unmolested? I won't be satisfied until this annoying, money-grubbing, toddler-brainwashing shakedown artist [and I use the term very loosely] is skinned and turned into a throw rug at the foot of Kimora Lee Simmons' bed.
When producers of a children's TV show pitch it as "It's Barney, but hip hop!" or "Barney, with blackfolk!" you can be pretty sure the success they want to replicate is the Purple Menace's cash flow. Literally every single product image in the Hip Hop Harry Shop jitters like a junkie begging for a fix. If you just buy something, maybe it'll make it stop.
For every kid's TV creator who actually gives two second's thought to the educational or developmental content of her show, you have my thanks and sympathies. The bald-faced cynicism of Hip Hop Harry's all scientifical-sounding, mumbo jumbo mission statement is incredible; the gold spray paint-to-turd ratio is off the charts:
The basic curricular concepts running throughout Hip Hop Harry is the need to have the preschool children feel that it is a program that encourages them to explore, to create, and to learn in a safe environment of Education Through Entertainment. While the essential core of the program content centers on the social and emotional experiences of the children, the cognitive, educational, physical, health, artistic, and creative domains are all interrelated at any given point in a series of episodes. Based on these concepts related to active learning that is age-appropriately paced, the following general goals and/or objectives are created for Hip Hop Harry and its commitment to Education Through Entertainment.
Now buy some t-shirts, $12.99!
Hip Hop Harry is on Discovery Channel somewhere, but the website clips should be more than enough [hiphopharry.com]