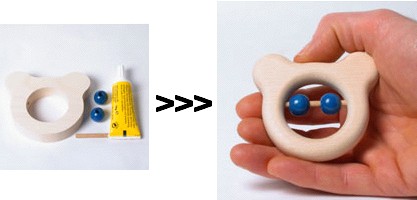 I would imagine if you're running a handcrafted wooden toy company in a fully developed, expensive country like Germany, you constantly feel pressure from low-cost factories in China or Vietnam or Romania or wherever. What's the logical strategic response? Outsource your labor costs to your customers, of course.
The artistans at Schaaf Spielzeug have introduced Daddymade, a line of DIY kits for making cute little newborn toys. The kit includes everything you need, from sandpaper to glue; you just add the time, elbow grease, and your moderate woodworking skill.
Not only does Schaaf get to sell its products without incurring finishing and assembly costs, you'll do the work for free, and you'll be damn proud and happy about it. Genius.
Because it's got beads and a dowel to assemble, Babalu the bear is the most complicated of the three Daddymade toys; the mouse and the star just require sanding and finishing a solid maple blank. The Daddymade kits run around $20--two less, one more--and are available at The Wooden Wagon
Daddymade DIY newborn toy kits [thewoodenwagon.com]